Recently, Nanjing LimingBio's Novel Coronavirus (SARS-CoV-2) antigen detection reagent "StrongStep® SARS-CoV-2 Antigen Rapid Test" has obtained the performance verification of Paul-Ehrlich-Institut (PEI*) in Germany, this product has been certified by the German Federal Agency for Medicines and Medical Device Administration (BfArM). LimingBio has become one of the few manufacturers in China that has obtained the dual certification of BfArM+PEI in Germany. The Liming Bio's antigen rapid test has passed the authoritative certification of the Ministry of Health of many countries, which fully proves the excellent performance of the kit.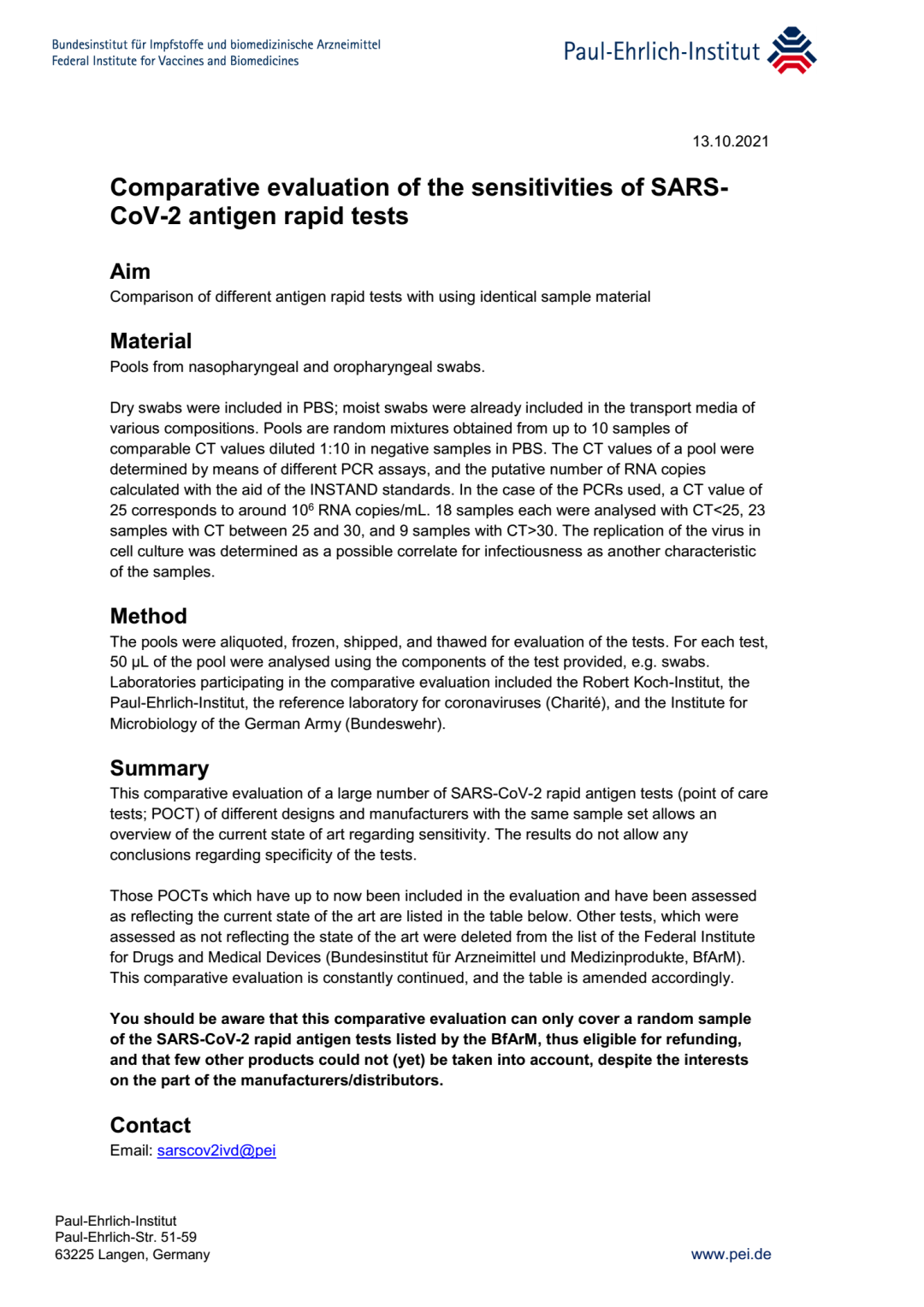 Liming Bio's antigen rapid test successfully passed German PEI performance verification
P.S. PEI: Paul Ehrlich Institute (German: Paul-Ehrlich-Institut), also known as the German Federal Institute of Vaccines and Biomedicine, is a research institution and medical regulatory agency of the German Federation, currently under the Federal Ministry of Health (BMG), has the independent performance of biological product inspection, clinical trial approval, product approval and marketing, and batch issuance. At the same time, it also undertakes the drafting, revision of relevant regulations, and provides scientific advice for different organizations, especially some European Union countries, European Union and international committees. Also, it provides professional advice to the German government, local agencies and parliament, and provides relevant information to patients and consumers.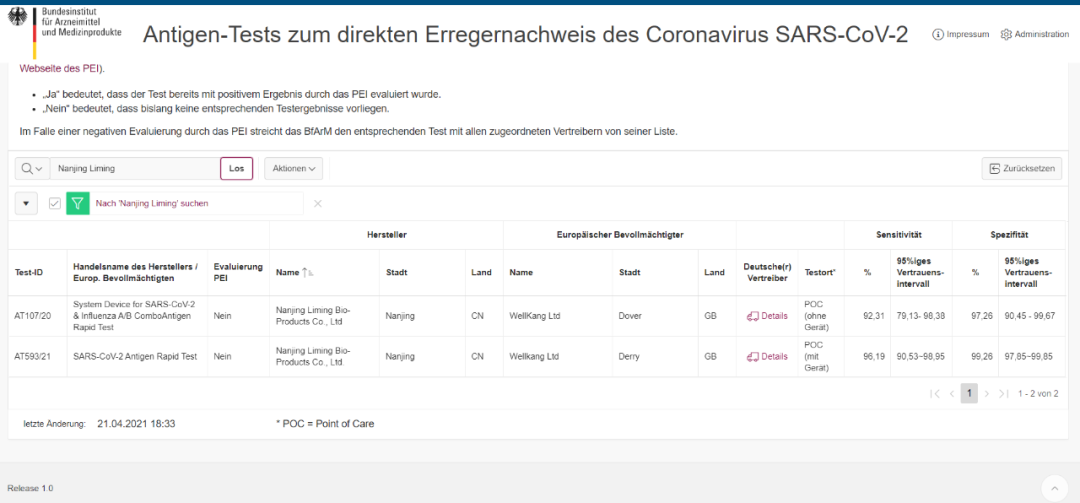 Liming Bio's antigen rapid test successfully passed the German BfArM certification 
The StrongStep® SARS-CoV-2 Antigen Rapid Test developed by Nanjing Liming Bio has successively obtained the European Union CE certification, the China National Institute for Food and Drug Control (NIFDC) registration inspection verification, entered the Rockefeller Foundation recommended list, and Guatemala certification , Italian Ministry of Health certification, German certification, Ecuador certification, Brazil (ANVISA) certification, Chile certification, Argentina certification, Dominica certification, Guatemala certification, Singapore HSA certification, Malaysia (MDA) certification, Philippines FDA certification, Indonesia certification, Thailand certification. It has won praise in the independent evaluation of the British Department of Health and Human Services (DHSC) and  (British AAA certification).

Malaysia MDA Novel Coronavirus Antigen Self-Test Certificate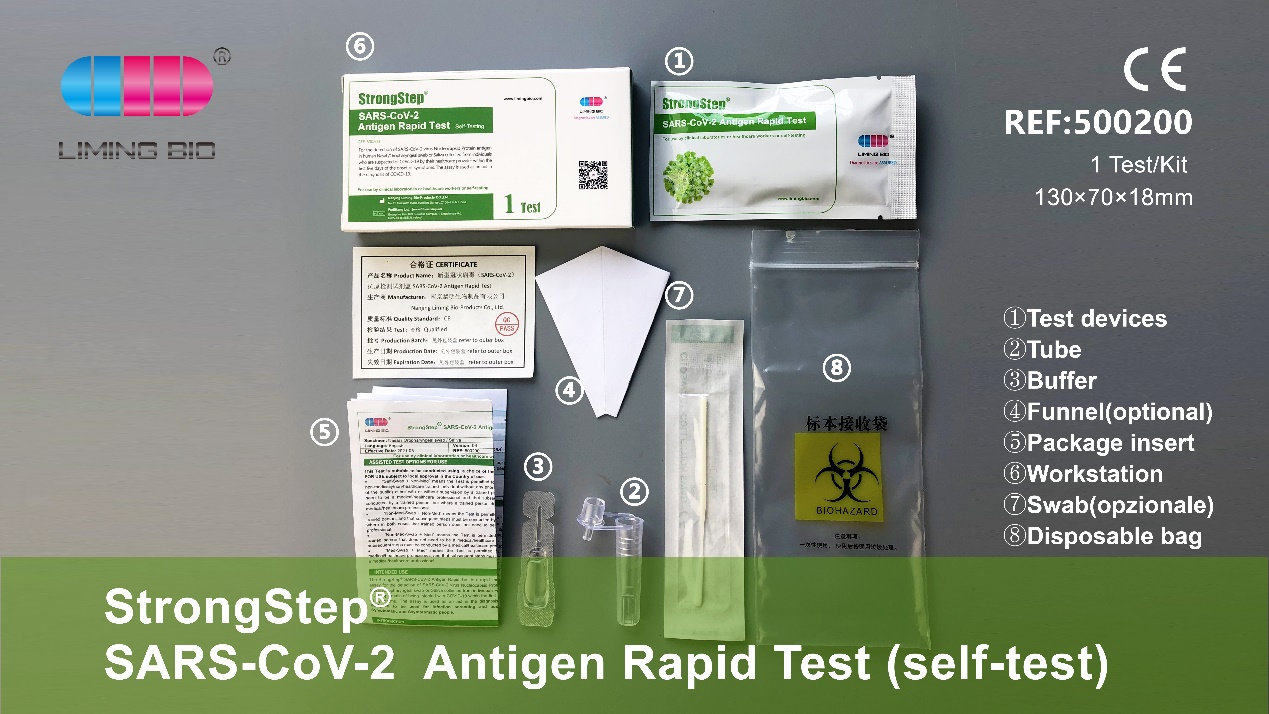 Features and advantages
01 Convenient sampling: non-invasive sample collection, saliva or nasopharyngeal swab.
02 Fast detection: The entire detection process only takes 15 minutes, and the results are directly observed by the eyes.
03 Simple operation: It can be operated without any auxiliary equipment and without any experience.
04 Excellent performance: specificity is 99.26%, sensitivity is 96.2%, and overall accuracy is 95%.
05 Demand customization: At present, the company has professional medical version, home self-test (saliva + nasopharyngeal swab) version and Mini self-test version, etc. The packaging box and instructions can be customized according to customer needs.
This System Device for SARS-CoV-2 Antigen Rapid Test (pen type) is equipped with a biological safety protection device, which can effectively block the virus in the specimen processing solution from volatilizing into the air, polluting the environment, and effectively protect the operator during the detection of the SARS-CoV-2 antigen rapid test.
The current global epidemic situation is still severe. With the emergence and spread of variants of the Novel Coronavirus virus, the epidemic situation in many countries and regions has rebounded, and prevention and control efforts are facing greater challenges. The SARS-CoV-2 Antigen Rapid Test is fast, accurate, simple to operate, and requires low equipment and personnel. It is very suitable for the rapid investigation of suspected cases of large-scale new crown virus infection, and is especially effective for rapid diagnosis of concentrated outbreaks. It can be used as the first line of defense for epidemic control, applied to the detection of early infections, to assist epidemic prevention and control, and control the spread of the virus.
Nanjing Liming Bio-products Co., Ltd. was founded in 2001. It is a biological diagnostic company specializing in the research and development, production and sales of clinical microbial in vitro diagnostic reagents. It has 20 years of excellent quality and has accumulated a complete quality system, and has obtained the IS013485 certification. Production management runs strictly in accordance with the international quality management system, ensuring that high-quality products serve customers all over the world. It has gradually developed into an internationally renowned large and medium-sized high-tech enterprise specializing in R&D, production, sales and service of in vitro rapid diagnostic reagents.
---
Post time: Oct-28-2021